AA 5 Star Gold Award 2018, 2019, 2020 and 2021
Old Church Farm was first inspected by a secret AA hotel inspector in August 2018 and awarded us with the highest accolade – the Gold Award with 5 stars. The inspector also had an evening meal and breakfast – both were given awards too. (AA Rosettes are only offered to restaurants open to the public, which we do not have). We had a follow up surprise inspection in January 2019, February 2020 and June 2021 retaining our 5 stars and food awards.
The AA introduced a star rating system to classify hotels in 1912, and in 2006 they developed Common Quality Standards (alongside the main tourist boards) for inspecting and rating accommodation. These standards and rating categories are now applied throughout the British Isles.
Hotels, guest accommodation, self-catering and serviced accommodation are given star ratings, while caravan, camping and glamping sites are given pennant ratings.
As our restaurant is not open to the public (although we do cater for private dinner parties) we cannot be awarded AA Rosettes but were told by the inspector that the quality of the food merits them.
Bristol, Bath and Somerset Tourism Awards 2020/21
This year I found the time to put ourselves forward for our regional award scheme in the guest house and B&B category sponsored by Tozers. It is with immense pride that I can tell you that we have been shortlisted as finalists which guarantees we will attain the Gold, Silver, Bronze or a Special award on March 18th.
The UK Hospitality industry has been hit hard by Covid restrictions but we have been utilising the downtime to good effect for decorating, maintenance and enhancements to the property. The West of England has so much to offer visitors looking for countryside escapes or historical and cultural city breaks. When travel restrictions are lifted the region will be prepared to welcome the masses that will be coming to savour the landscapes and experiences.
Travelmyth Awards 2021
International travel portal, Travelmyth, have awarded Old Church Farm "Top Small Hotel in South Gloucestershire 2021". Their awards apparently are based on customer feedback from other websites, such as Booking.com and Google. Thank you very much.
The Good Hotel Guide 2021
We are honoured to feature in the 2021 Good Hotel Guide. This annual publication is seen as one of the few independent review books that does not grant entry through payment but purely on merit. Entrants are reviewed by anonymous inspectors and need to maintain good reviews from the public in order to remain in the guide. The book features over 860 UK hotels, B&Bs and Guest Houses and includes some discount vouchers to be used at participating premises (including ours!).
So, buy the book and come and see us!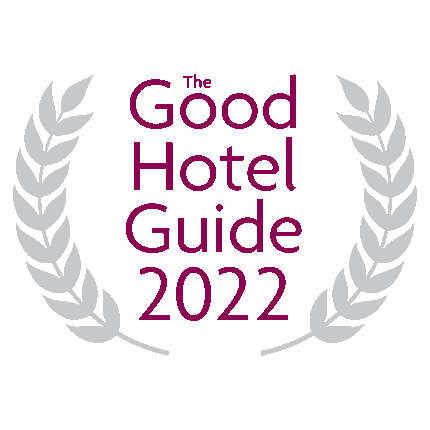 Booking.com Traveller Review Awards 2020
Reviews on Booking.Com can only be made by guests who have booked through the online travel agent, so the reviews are 100% genuine. Therefore, we are particularly proud of our score of 9.8 out of 10 which is a consistent score for us over the past couple of years and one of the highest in the UK. So, thank you to everyone who left feedback, photos etc.
Eviivo Hidden Gem Award 2019 and Star Among Stars Award 2019
Having been shortlisted for the Eviivo Awards 'Hidden Gem' category for the South West region in August it seemed like an eternity awaiting award night held in the Connaught Rooms, Covent Garden on October 15th. It was a lovely evening of entertainment and a three course supper with champagne, wine and cocktails – all paid for by the host, Eviivo, who provide an online booking platform for many independent B&Bs, Guest Houses and Hotels (including ours).
The Hidden Gems category is the top prize and as such was the last to be announced. There were 5 shortlisted properties for each of the nine regions of Great Britain and Northern Ireland. Old Church Farm was crowned winner of the South West region with particular reference to the cuisine. There was one last award to finish the evening – the coveted 'Star Amongst Stars' which is the overall winner chosen from the nine regions. The judges decided that this year's national champion was Old Church Farm! I can't express the elation that Kate and I felt and are grateful to everyone who have visited us and their superlative reviews. It was a night that we will cherish in our memories forever.

Eviivo Awards 2018
We are delighted to have been shortlisted in our first year of trading for the Eviivo Awards in the category "Hidden Gems & Star Amongst Stars". Along with 4 other establishments from the South West we will be judged against the 8 other regions of the UK in October with the ultimate winner being crowned 'Star Amongst Stars'. Hidden Gems are accommodation providers who excel in all areas and have a great story to tell, leaving guests with the fondest memories of their stay.
eviivo is a young company aiming to transform independent tourism by delivering cool, cost-effective, all-in-one apps and services to small independent accommodation providers. eviivo helps over 16,000 hosts and hoteliers succeed online. We take away the burdensome tasks of managing online bookings, taking payments and gaining coverage on OTAs.